The issue:
Sky-rocketing prescription drug prices demand action. New drugs drive prices higher; commonly used medications cost more, too
Prescription drug prices spiked again last year sending consumers, their doctors and public officials in search of long-term solutions.
Total U.S. spending on prescription drugs in 2015 reached $310 billion, according to a new study.[1] The increase on invoice prices reflects an 8.5 percent jump from 2014.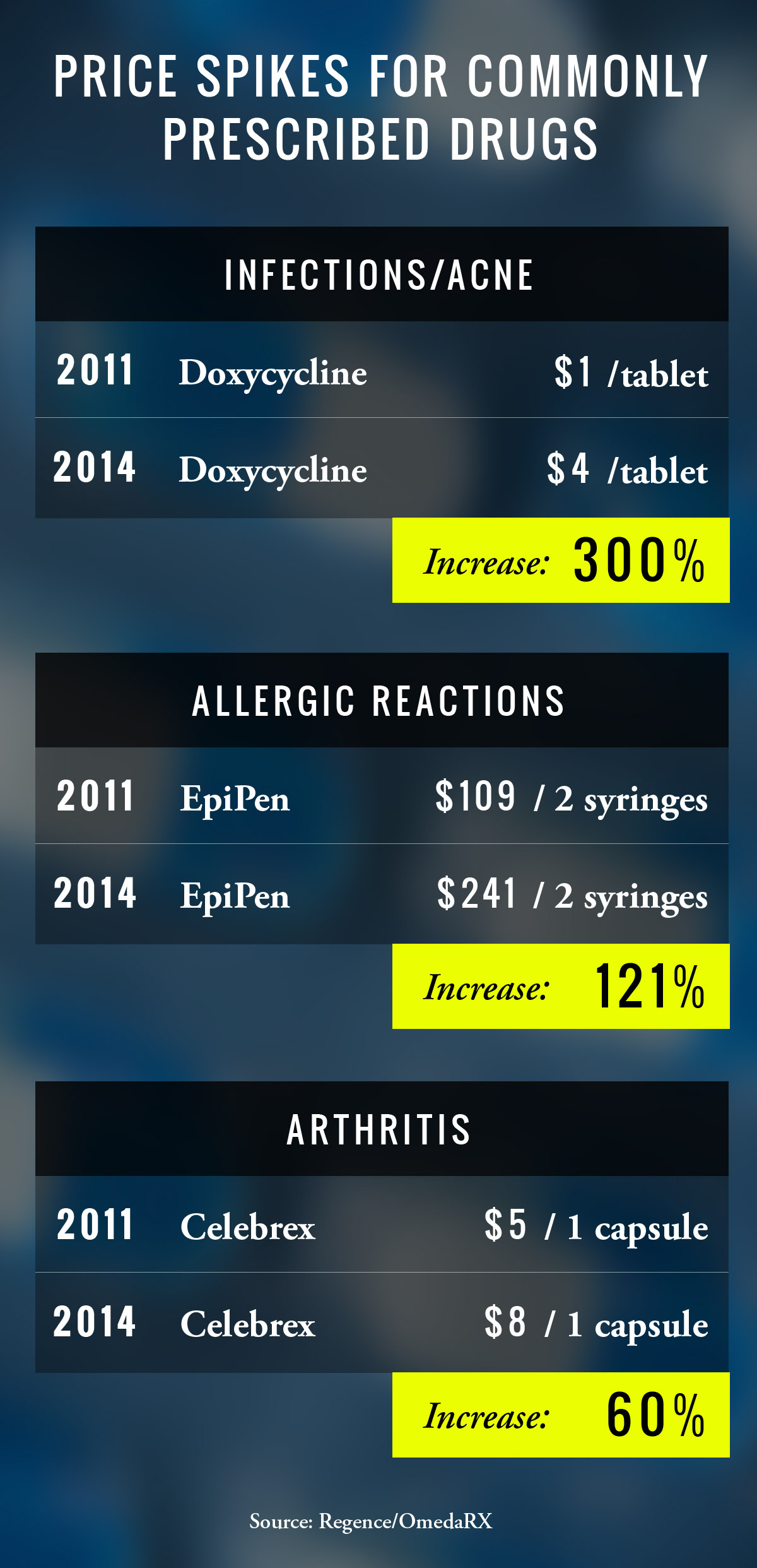 Families are all too familiar with the trend. The cost of prescription drugs Oregonians purchased has steadily climbed an average of 8.5 percent a year between 1991 and 2009,[2], federal government calculations show.
More recently, so-called "specialty" drugs, which include medicines to treat hepatitis, autoimmune diseases and cancer, focused even more attention on drug pricing. Sovaldi, prescribed to treat Hepatitis C, is just the latest drug with a blockbuster price: $1,000 per pill.
The pharmaceutical industry says price directly relates to the research costs of creating and manufacturing these new life-saving drugs.
However, research is not the only explanation.
"We saw a barrage of high-priced innovative products, and that created the expectation among many that high costs are typical," says Sean Karbowicz, lead pharmacist and founder of MedSavvy, which is creating new tools to help patients and their doctors better compare medication costs, safety and effectiveness.
In reality, he says, educated consumers have the power to reverse the trend.
"It's critically important for consumers to recognize they have choices," Karbowicz says. "It is actually quite common to see drugs that are similarly effective, yet there's a wide variation in price."
[1] IMS Health, April 14, 2016.
[2] Centers for Medicare and Medicaid Services.
Who is affected:
"We're going broke pretty fast"

Harley Sachs, retired professor and writer
Nearly 1.7 million adults in Oregon live with one or more chronic diseases, including arthritis, asthma and diabetes.[1]  Chronic disease patients are particularly hard hit by high drug prices, however annual increases in prescription medication costs also factor into the insurance premiums everyone pays.
Harley Sachs, 85, is a prolific writer whose latest novel, "Dead Men Don't Bleed," is set in his Portland retirement community.
"Writing is the only thing that keeps me from being totally depressed," he says.
Sachs worries about how drug and medical bills are eroding the savings he set aside 30 years ago for his retirement.
His wife, Ulla, suffered a major stroke in 2014. She is unable to walk, and her left side is paralyzed. Sachs also battles several chronic diseases, including renal failure, heart failure, and COPD, or chronic obstructive pulmonary disease.
"Doc said my leaking heart valve is normal for my age. I told him normal for my age is dead. So I'm doing OK as long as I don't breathe," he jokes.
He turns serious about the couple's medical bills, which totaled more than $80,000 last year.
"Obviously we can't afford to do this," he says, "We're going broke pretty fast."
Like others facing high drug prices, Sachs has discovered some cost-saving tips:
If you can, get the generic.
Save on copayments by filling a three-month prescription, vs. refilling month to month.
Discuss your cost concerns with your doctor.
Sachs, who served in the U.S. military during the Korean war, says the best medical advice he ever received was to sign up for care through the Veterans Health Administration.
Sachs showed the staff at the VA Medical Center a spreadsheet listing his 13 prescription medications and asked whether they could help cut his costs. The VA waived his $9 per-refill copay.
"God bless the VA," he says. "Ulla and I have lived in Sweden, Denmark and Scotland. American medicine is a travesty driven by the profit motive."
[1]
Oregon Health Authority
Focusing on solutions:
Advocates, Congress, Oregon Legislature look at greater transparency, competition
This spring, The Campaign for Sustainable Rx Pricing announced its plan to rein in drug costs.
The coalition, which includes major insurance companies, Walmart, AARP and other patient advocacy groups — is calling for greater transparency around research and development costs and drug pricing. The coalition also wants Congress and the federal government to speed FDA approval of generic drug applications, particularly for life-saving drugs, and to reduce monopolies by in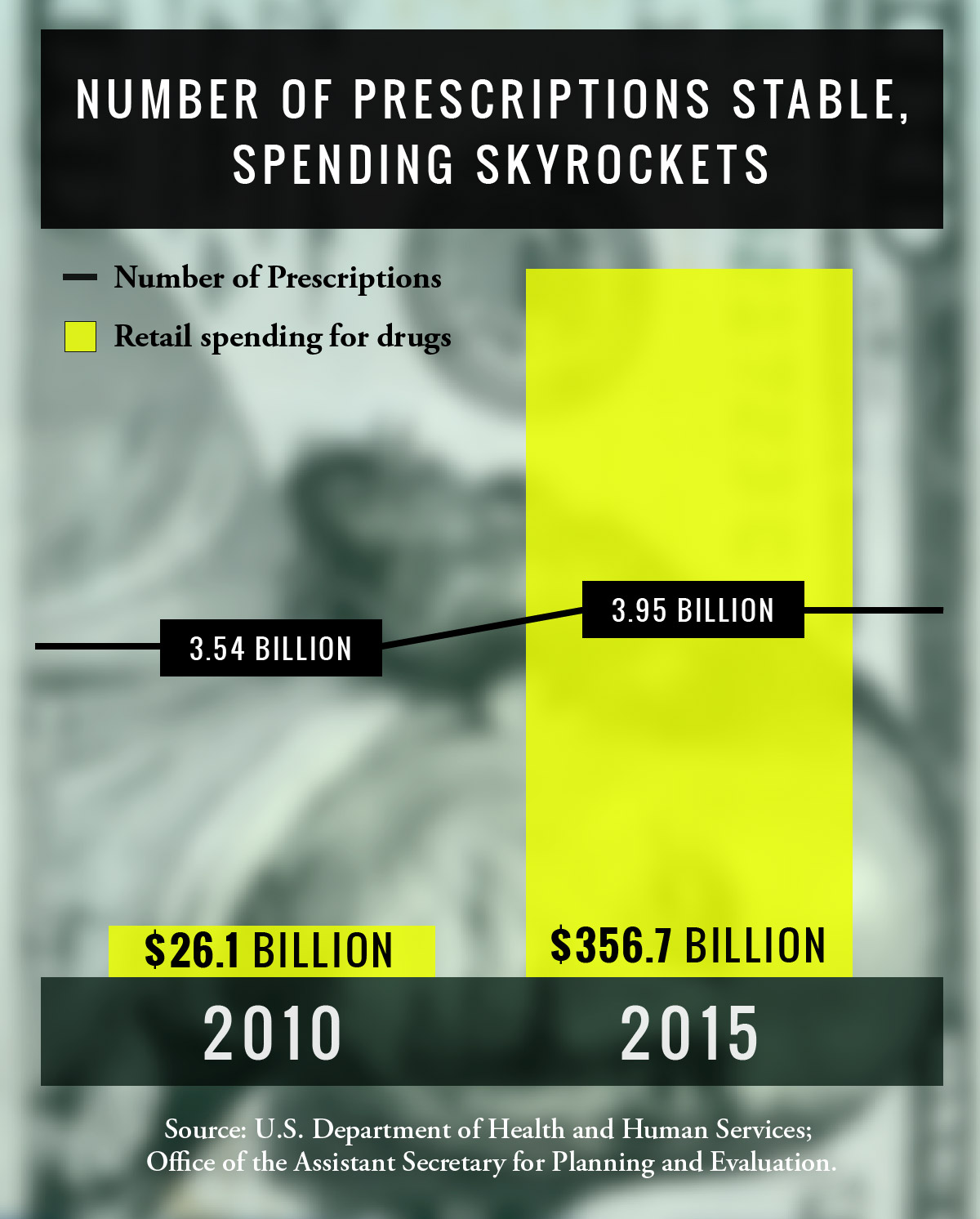 centivizing competition.
Notably, the Campaign for Sustainable Rx Pricing demands that drug makers provide information showing that their products are better than others so physicians and patients can make better decisions about a drug's value.
U.S. Sen. Ron Wyden and Sen. Jeff Merkley, both of Oregon, also announced they're co-sponsoring legislation capping prescription drug costs for seniors.
Meanwhile, several state legislatures, including Oregon, are looking at how to slow rising drug prices and create more transparency about costs.
"Done right, this information could inform drug purchasing decisions and pharmacy benefit designs to help consumers achieve greater value for their dollar," says Jesse Ellis O'Brien, policy director of OSPIRG, an Oregon non-profit consumer group.
Greater transparency, he says, "could also help create a baseline of accountability for drug manufacturers to keep drug prices reasonable."